Out of School Youth Program
State of Florida-Workforce Investment Act (WIOA) Out of School Youth Program
The Workforce Innovation and Opportunity Act (WIOA) – Out of School Youth Program – was created to provide our youth with the necessary tools to better address their educational and employment skills. The WIOA – Out of School Program is specially designed for educational disconnected youth to assist them in their career educational development.
The program targets youth individuals between the ages of 16 and 24 facing educational and employment barriers. It increases the focus on disadvantage youth falling in one or more of the following categories: homeless, runaway, foster child, disabled, English language learner, offender, pregnant or parenting, basic skills deficient or any other individual requiring additional assistance to complete and educational program or to secure and hold employment.
The Out-of-School Program offers a wide range of services focused in preparing unemployed, underemployed and under skilled youth to meet today's labor market demands by balancing an industry based specific training program with a work-based learning environment.
These services include and are not limited to:
 Financial and Educational Assistance to complete a GED or a HS completion program
 Short Term Training Programs
 Tutoring and Study Skills Training
 Labor Market Information
 Work Readiness Skills Training
 Paid and Unpaid Work Experience/Internships
 Financial Literacy
 Activities to prepare youth to transition to post-secondary education
 Guidance and counseling
Transportation Services
This program offers a comprehensive range of services focused in the educational and professional development of the participant. Participants enrolled in the program qualify for educational assistance to complete an educational program. This assistance is individually designed in accordance with the participant's needs and goals. Youth are helped to enter and successfully complete a High School or GED program, and/or a Short Term Training program in fields such as Medical, Information Technology, Aviation, Hospitality Management, as well as, other short term trainings pertaining on participant's goals and qualifications. The program also offers 20 hours of work readiness skills training and up to 140 hours of Paid Work Experience, which is followed with employment assistance and job referrals. Referrals to other community resources, as needed by participant, are also provided. Our goal is to provide opportunities and assist at risk youth overcome their barriers to achieve their highest potential.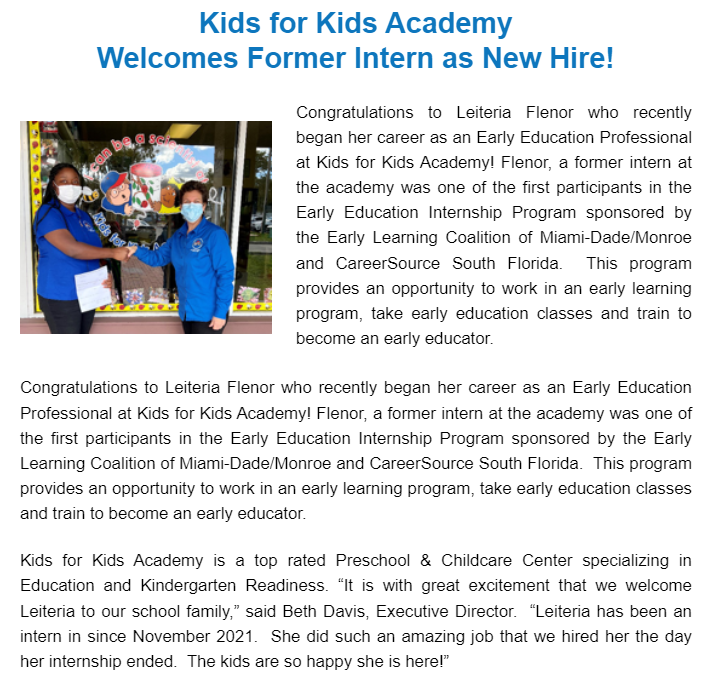 Miami Dade College
School of Continuing Education and Professional Development Graduation Ceremony 2022
Call and Register TODAY !!